Details on Slip Sheet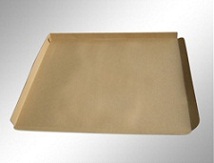 A slip sheet is used as a unit load support device in vehicle delivery and transportation of products. When slip sheets are supported by a pallet board, roller conveyor surface, flat load carrying surface, or a cart or lift truck, the structural strength of the slip sheet supports the product loads weight.
Slip Sheet Advantages
Using slip sheets instead of wooden pallets allows for 12-15% more products in material handling containers.
Slip sheets do not require maintenance, but can easily be replaced.
Significant reduction in material handling costs.
Decreases loading/unloading time by up to 60%
Weighs 20 times less than wooden pallets, saving shipping weight.
Can be customized to fit any size load.
Eliminates the need for pallet exchange.
Reusable and reliable.
Most are recyclable.
Is cost-effective.
Unlike wooden pallet, slip sheets are not subject to phytosanitary restrictions.