Details on Paper Pallet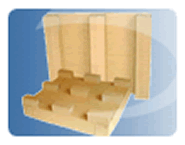 The problem of a wooden pallet is that, even if it is treated to make it compliant with strict ISPM 15, it can be difficult to tell the difference between a treated pallet and a non-treated one. When a shipment arrives in a foreign land, and the customs officer has a problem determining the pallet's compliance, the pallet, and the product as well, may be quarantined (at high fee), or may even be refused entry. Some countries charge inspection fees for all wooden pallets. Paper Pallet is a good substitute of a wooden one.
Advantages of Paper Pallet :
100% Solid Wood-Free Construction.
Eliminates wood import restrictions.
Improves productivity and safety.
Improves cost and cube utilization.
Customized container size.
Reduces freight cost.
Reduces labor and handling.
Easy assembly and knock-down design.
No splinters, protruding screws, nails and brackets etc.